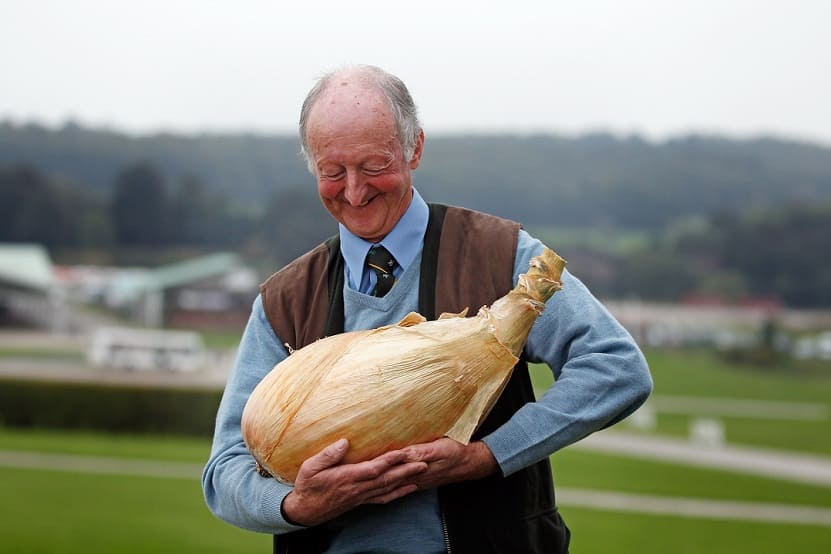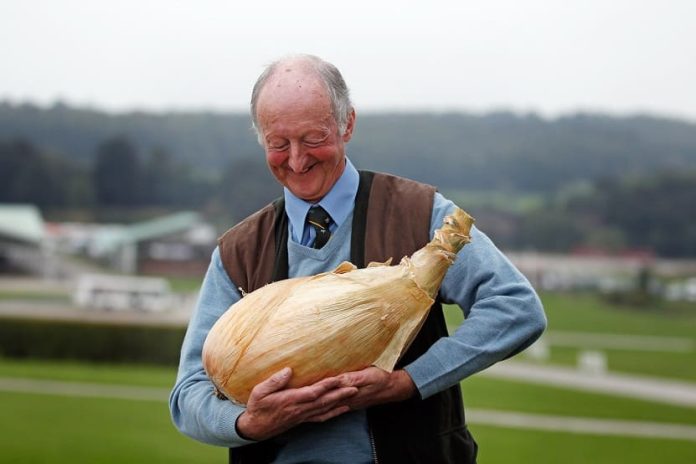 Peter Glazebrook, a retired chartered surveyor from Newark, has broken yet another world record with his enormous onion. This monster vegetable, weighing 8.15kg, beat the previous record by 50g and is now the world's largest onion.
The onion is one of many giant vegetables at the annual Harrogate Autumn Flower Show. Mr. Glazebrook also scooped the prize in the Giant Marrow Class with a marrow weighing in at 54.32kg.
Mr. Glazebrook has been trying to cultivate the world's heaviest onion for 25 years, and his efforts have finally paid off. The previous record of 7.495kg, held by John Sifford of the West Midlands since 2005, has been smashed by Mr. Glazebrook's latest creation. The onion measures 30 inches in circumference and 24 inches from top to bottom.
Mr. Glazebrook invested much time and money into growing the onion, including automatic venting and heating. He also concentrated on a batch of just ten plants instead of his usual 50 to pick a winner. He grew the onions in 150-liter plant pots, which are big enough for a large tree, using John Innes Number 3 soil.
"It has taken me at least 25 years. I have been growing them for that length of time. I was very close to the world record at that time, but it always escaped me. It is the same seed as last year. But I have invested more time and money into growing it, including automatic venting and heating," Mr. Glazebrook said.
He added that he had been talking to the onions for nearly 12 months, asking them if they wanted more water and food. "I feel so proud. I will take it home, look after it, and put it down to the seed. It was far too valuable to eat. If you did, I should think it could feed a thousand people. It would certainly do for a lot of hotdogs," he said.
Prize vegetables lose weight if left on display overnight, so Mr. Glazebrook waited until Thursday evening before lifting the record-breaking onion he had been cultivating since November last year.
He then wrapped it carefully in towels to avoid bruising it with potholes before loading it into his estate car for the overnight drive, arriving at the Great Yorkshire Showground around 4 am.
There was a nail-biting wait while dozens of rival entries were loaded onto the scales before Peter was announced the winner. The prize-winning onion and other shockingly giant vegetables, including cabbages filling a wheelbarrow, brought a tear to every gardener's eye at the Harrogate Autumn Flower Show.
Mr. Glazebrook holds three other world records – heaviest potato, parsnip, and longest beetroot. He has been growing and showing for almost 30 years, and he inherited his love of gardening from his father, who was also a keen gardener but never showed his produce.
The annual Harrogate Autumn Flower Show is known for its magnificent floral displays and the competition for the world's most enormous vegetables. Visitors to the show will be amazed by the sheer size and weight of Mr. Glazebrook's record-breaking onion and other giant vegetables on display.